Interior Painting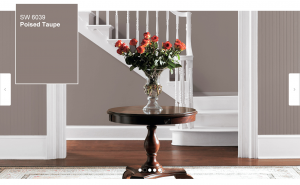 Interior Painting
2015/2016 has been all about GRAY. Designers all over the US used it and abused it, and lets face it, what an amazing shade gray is.
Used it on walls, ceiling, trims and the most requested wood. We are having fun with this shade. But it seems that there is a new color on the horizon for 2017. Sherwin Williams just came out with this infomercial that is making heads turn. The name of the new color is Poised Taupe SW 6039. According to Sherwin Williams this color "creates a cozy lifestyle and brings a sense of sanctuary into our homes. It diffuses the stress of the world outside our door. "
Inspired by the subtle browns and grays of nature, our 2017 Color of the Year is a complex neutral that coordinates with both warm and cool colors.
For those who prefer Benjamin More the color is Smoked Oyster 2109-40 BM
Wall Street Arts offers all of the following services to help you in your home/office project: Painting, Epoxy Flooring,Wall Paper Removal, Faux Finish, Luster Stone, Wood Staining, Popcorn Removal and more. Our craftsman are highly skilled and willing to provide you with the upmost professional service in South Florida. We work around you.
Call us for a free estimate.
Image Source:
http://www.sherwin-williams.com/homeowners/color/find-and-explore-colors/paint-colors-by-collection/color-forecast/color-of-the-year/